Hotel & Gasthof Perauer
Tirol im Herzen und auf dem Teller
Perauer has Tyrol in its heart and presents it on your plate!
A toast to our guests!
Welcome to Zillertal, welcome to the Perauer! Here a culture of pleasure, Tyrol style, awaits you: honest, pure, impeccable and above all else, affable. A family business which is rich in tradition and which has a feeling for the good old values and a spirit for new, fresh ideas. Three generations under one roof who have passion in their blood and are hosts with all their heart. We look forward to welcoming you – more than that: we celebrate you!
As stubborn as a mule when it comes to quality …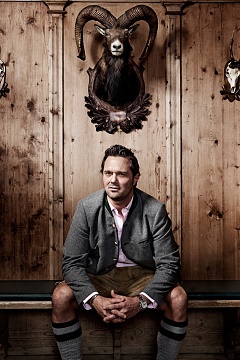 When the stomach rumbles & the floorboards creak (Menu)
… you know you have just entered the Perauer epicurean temple: That's where wonderful scents of barbecuing, flambéing and frying waft through the venerable walls of our rustic restaurant (the butchery is more than 300 years old!) and people cannot get their mouths full enough – of the select dishes and fine wines from near and far … And once their hunger is satisfied, a nightcap at our stylish hotel bar is in order. We look forward to seeing you!
Our Steaks are scorching hot!
With an instinctive feeling, lots of care and attention, using the best mountain produce and of course with an excellent team, our head chef Robert magics up Tyrolean dishes and sometimes even dishes from all around the globe. Whatever he cooks – traditional classics from the hotel's own butchery, seasonal highlights, international specialities, vegetarian delights or sweet sins – it all tastes fantastic (it's not just us who say this, but our many regular guests).
Our flavours are home-made!
Perauer's home-made bacon, made according to an old family recipe (a stroke of luck for whoever isn't a vegetarian), home-made farmer's loaf (much too delicious to share), home-made jams (to refill again and again) made from seasonal fruits, hearty 'Grammlschmalz' crackling fat, savoury Kaminwurzn sausage (ok, another then …) so many other speciality sausages and last but not least our apricot brandy (blows your mind) – you can also taste all of our delights at home!
---
Deutsch
Ein Hoch auf unsere Gäste! 
Willkommen im Zillertal, willkommen beim Perauer! Hier erwartet Sie Genusskultur nach Tiroler Art: ehrlich, rein, unverfälscht und vor allem herzlich. Ein traditionsreicher Familienbetrieb mit Sinn für die guten alten Werte und Geist für neue, frische Ideen. Drei Generationen unter einem Dach, die Leidenschaft im Blut haben und mit ganzem Herzen Gastgeber sind. Wir freuen uns auf Sie – mehr noch: Wir feiern Sie!
Ein sturer Bock, was Qualität angeht …
… haben Sie mit Sicherheit gerade den Perauer'schen Genusstempel betreten: Dort, wo herrlicher Grill-, Flambier- oder Bratenduft die ehrwürdigen Mauern unserer urigen Gaststuben (die Metzgerstube ist über 300 Jahre alt!) durchzieht und die Leute den Mund gar nicht erst voll genug kriegen können – von den erlesenen Speisen und edlen Tröpfchen aus Nah und Fern … Und ist der Hunger erst einmal gestillt, empfiehlt sich ein "Absacker" in unserer stilvollen Hotelbar. Wir freuen uns auf Sie!
Unsere Steaks machen heiß!
Mit Fingerspitzengefühl, viel Liebe, den besten Produkten der Bergwelt und natürlich einem hervorragenden Team zaubert unser Chefkoch Robert Tirol und manchmal auch die weite Welt auf den Teller. Was er auch kocht – traditionelle Klassiker der hauseigenen Metzgerei, saisonale Höhepunkte, internationale Spezialitäten, vegetarische Köstlichkeiten oder süße Sünden – es schmeckt grandios (das sagen übrigens nicht nur wir, sondern unsere vielen Stammgäste).
Geschmack ist bei uns hausgemacht!
Perauers hausgemachten Speck nach altem Familienrezept (Schwein gehabt, wer jetzt kein Vegetarier ist), das selbstgebackene Bauernbrot (zum Teilen viel zu lecker), die hausgemachten Marmeladen (zum immer wieder Nachladen) aus Früchten der Saison, herzhaftes Grammlschmalz, würzige Kaminwurzn (ach, eine geht noch …) sowie viele andere Wurstspezialitäten und nicht zuletzt unseren Hausbrand Marille (der haut ohnehin jeden um) – all unsere Köstlichkeiten können Sie sich auch zuhause schmecken lassen!